That's right folks, it's been a long while since our last contest, the reason being only a lack of interest in the last one, with only a few people entering. That definitely made me think THRICE about doing another one, but I just can't stay away! I do so enjoy putting them together and seeing what you guys come up with when you flex your creative muscles. So, here we are. What's this one about? Here it is: I want YOU to design my next
Project Wonderful
advertising banner! Easy, right? I know how I enjoy making new ad banners and seeing them plastered all over someone else's website, and I know you do too. If you're familiar with PW then you're also familiar with the dimensions of the different ad boxes. Buttons, skyskrapers, towers, etc. Well, you can submit any of the sizes, and as many as you want. Chimpy does not have to be incorporated into the design, unless of course you want to use him. You can be funny, or you can be serious. You can make a point, or just have an eye catching image. You can use just text, chimpy, anything you want, as long as it promotes the site. Anything goes! What about prizes, you might wonder? Glad you asked...
Prizes. We all want em. But what can you win if you're the lucky one picked? Lessee....how about...you move to the top of the heap to have your comic reviewed! That's cool, right? And also...one of my patented interviews for the site! Great, huh? I'll also throw in your banner for your site permanently displayed on Webcomic Asylum. That's a good one right there. One last thing. I rummaged through my collectibles and found something you might salivate for. An original 1988 copy of SHINOBI for the Sega Master System!! What hardcore gamer wouldn't want to get his mitts on this puppy? After dusting it off I have to say you will be amazed at how many more dates you get when flashing this trophy around. Just to whet your appetites here's the butt-kicking description for this crowd pleaser...
A NEW Sega arcade hit comes to life on the Sega System! You're Jo-Musashi, a mild-mannered martial arts instructor. but yuo have another job as well. When duty calls, you're a Master Ninja! YOUR MISSION: An evil terrorist network, the Ring of Five, has kidnapped the children of the world's leaders! You must get the hostages back...and defeat the Ring of Five!They're waiting for you with gunmen, thugs, mongos and green ninjas. But you alone have the power of Ninja Magic! It's arcade-like action...only from Sega!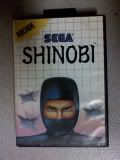 Okay, now that you've picked your jaws up off the floor, just remember the contest starts today, July 31st, and ends August 31st. Wait...you're still sitting there? Get your butts up and walk around in circles coming up with ideas! Can't wait to see what you come up with! Go to
PW
to get ad sizes, and send jpeg format entries with your name and website(if you don't have one just your name) to
uncaringmachine@aol.com
. Have fun!