The Nineteenth-Century Industrialist is a humor comic that centers around a character named Hiram Thorpe, a "Nineteenth-Century Industrialist" as the title suggests. He is somehow living in our time, which is not explained. His driving motivation is, well, making money. Here you'll find the main source of jokes. Also, he tends to let loose this maniacal cackle whenever he rips what he considers a funny. The guy is obviously insane. But you probably would be too after years of corporate greed and making your living off of the backs of hard working regular joes like Soot and Grimey. Other characters who make appearances range from a time traveling Karl Marx to a psychotic superhero named Colonel Earth who reminds me of a finally lost his marbles Captain Planet.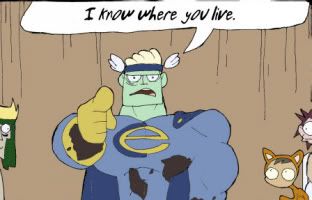 Art-wise, this comic has a lot going for it. Renee Katz has a great style that reminds me of classic Bugs Bunny cartoons mixed with a hint of chibi-ness. The coloring is also perfect for the comic with its subdued tones not screaming at you and making it hard to look at for too long. The only problems I had visually were that the lettering font used can sometimes be hard to read. The font itself fits the comic well, it could just be a bit darker. Also I could have done with a few more backgrounds; but this is a minor complaint.
The writing is pretty well done, but sometimes I didn't see the joke. In one for instance, Hiram attacks these two creatures playing in the sun and says he's going to eat them. He then proceeds to and one says "not again!". I don't get it. Are they an endangered species or is he just insanely hungry? Beats me. But, others work well, as in the Pope showing up and demanding tithes. I particularly liked those. And I sure don't like Colonel Earth knowing where I live.
I recommend this comic for anyone with an offbeat sense of humor who can handle wanton violence and isn't offended easily. A few minor quips don't keep this comic from being a good read. And at only 20 comics in, it has nowhere to go but up! I'll be watching this one. And that, my friends, is MY OPINION.
This comic is...
Recommended